591 posts since
Aug 14, 2007
Currently Being Moderated
Dec 26, 2007 11:34 PM
Hi Boomers! 

Race Report From Las Vegas Nevada. Zappos is just not a people oriented race orginiser. Getting to the Expo was quite an experience, following thier directions to parking even more so. Roads were blocked off and nobody seemed to know how to get to the parking, finally found one of the gaurds who seemed to have a clue and we were directed to the correct road.

After finally getting my stuff I was able to decide on my race goals.
1. Find parking
2. Get to the starting line
3. Finish

The following morning I got up plenty early enough to drive down to the race, I thought. More road closures and getting over to the parking in the Mandella I drove across town a couple of times trying to find an alternet route to get there. After having finally gotten there the parking was full. I asked the police and other guards where to park and know one could tell me how to get there. I ended up back on Las Vegas BLVD looking at the racers lining up, I had 10 minutes to get in line and I was about to just give it up...this was the most difficult part of the race. How was I going to explain another DNF in Nevada? A stroke of luck, I just happend to notice some cars parked next to a closed gas station across the street, I turned into the small road as an exploration and hope for luck. There was a large field where the fence was taken down and other cars were parked in there. Just in time to get in line if I rushed! Seems like it might have been a good idea to put a sign up saying..."Parking for Marathon Particapants" and perhaps a few other signs to direct some of us more confused runners.

A little fence climbing was in order to get into the crowd, and it was the biggest crowd I have ever been in.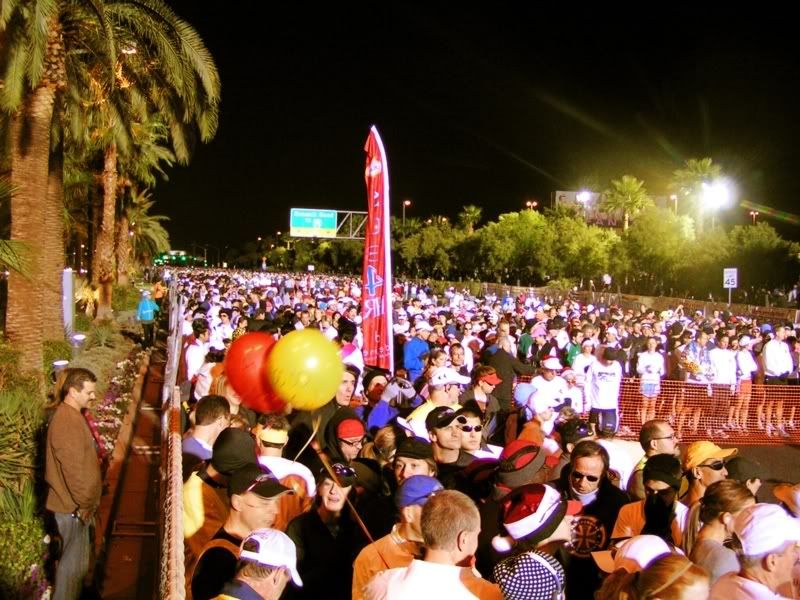 Prior to the race an elvis impersonator sang the National Anthem. While many of us stopped and held our hand over our hearts, it was surprising to see the large number of people who ignored it.

I pretty well made up my mind to do this first marathon easy and stay as close to 70% max as possible and not worry about the time. Good choice. The Blue something band started us off complete with fireworks, I did not do well capturing the start.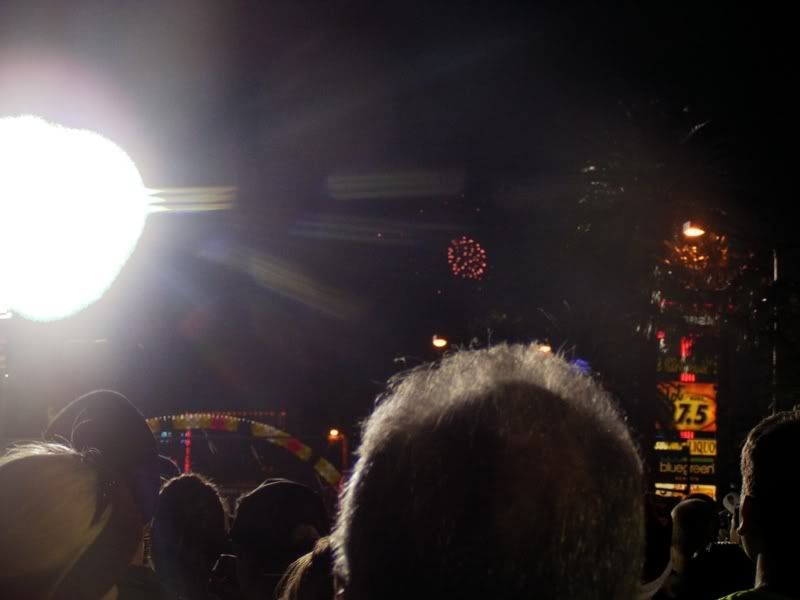 The start was exciting and almost intoxicating while being caught up in the energy of the crowd. I loved it and decided then that is the first of many future marathons. I had forgotten over the years how much I enjoyed the marathons that I done a long time ago.

Early in the race I was struck by this sign at a corner bar, had to stop chuckle and take a photo, it was so appropriate for the area of town that we were in.
  
  

I was a bit amused by the run thru the chapel and get married thing and the different folks dressed up in wedding garb.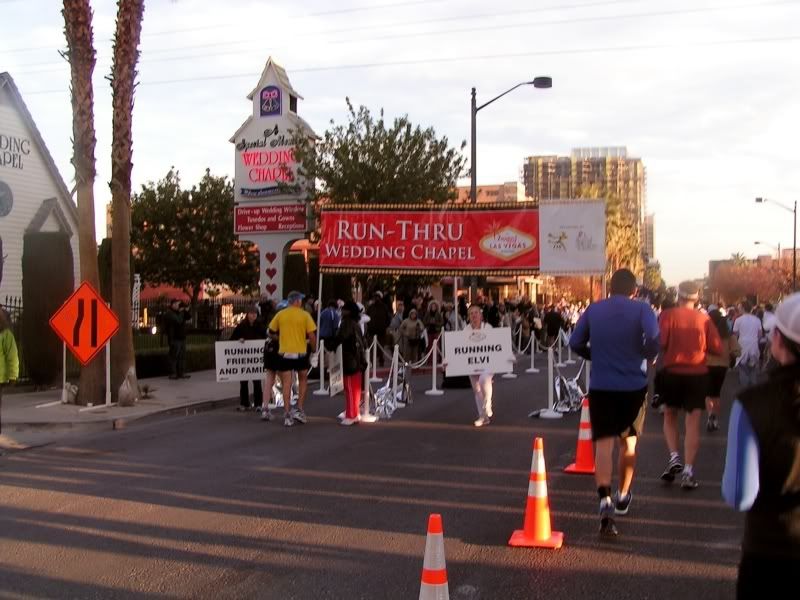 The run thru the various casino hotels was interesting and when we headed west towards the mountains.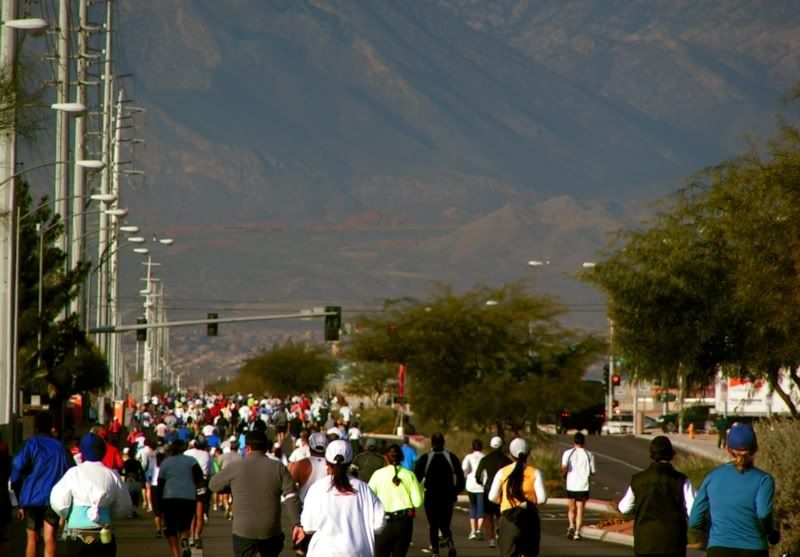 The scenery kind of degrades from there when headed back south from neighborhoods to construction area's.

Outhouses! Not enough porta johns. After about 3 miles I needed to make a pit stop as I didn't have time prior to the race. Long lines in front of the few porta johns along the way, wasn't able to find an available one for about 12 miles and it wasn'nt too soon. They had plenty of water and gater aid stations. I took water only a few times and brought along my own endurox which is a little more palatable. I think at the end of the gator aid stations they should supply a cat so that you can lick it's *** to get the taste out of your mouth.
After about 15 miles they were handing out power bars and again they need to supply a cat. There were volunteers after that handing out, popcorn, m&m's and orange slices. Those were quite a treat.

I tried something a little different, Chocolate Cliff Shots, these were actually tasty and I think think they stick with you longer than the other gels. The texture and taste is like chocolate icing.

A race report wouldn't be complete without some sort of hardship that prevented me from running my best. The weather was perfect, temps started in the upper 30's ended in the mid 50's, no wind, low humidity and no hills. I was in about 13 miles when a sharp electrical shock went up the nerve in the front of my left thigh. Did it a few other times and worked itself out in about 2 miles. It must have cost me about 2 seconds overall. Sorry no drama folks.

The last six miles I spent catching up to different runners who were struggling and spoke with them and hopefully help get them going. I may not be able to run fast now, but I can run easily and know what i am doing. Oddly, the last 3 miles I was not exactly happy that it was just about over.

I did pick it up the last mile to the finish and got my finishers medal and a rose. Don't know if they were ment for the men, but I wanted one to give to Kay after the race. She really liked that.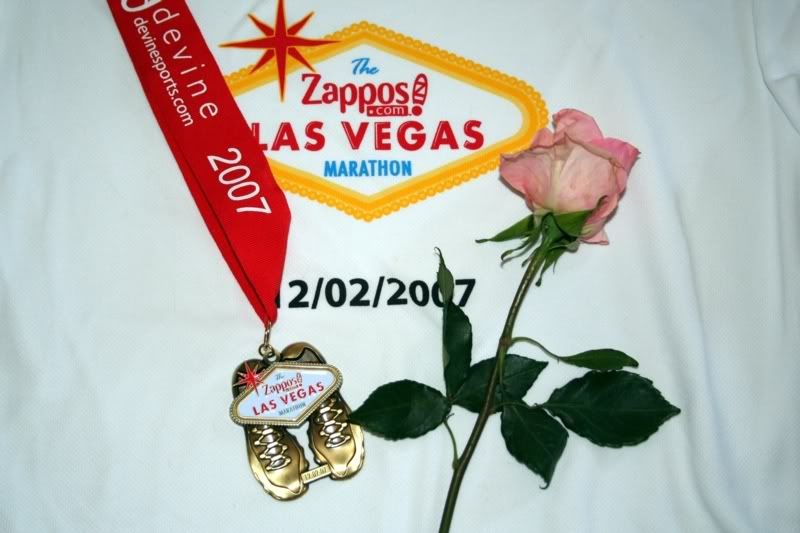 Remembering Tet said this is just a marathon not a race. My time was 05:53:36 (official chip time)

All Goals Achieved! Though time was a bit slow, I think with my limited training, I was able to run within myself, get to the starting line healthy, enjoy the event and finish healthy, I am elated and pleased with myself. I want to do another one! This was also a milestone for me, I lost the abiltiy to run a marathon thru my own temporary failure at life, but by grace and Gods will, I have been given back something I once loved. It just can't get better than that.

On the lighter side, I noticed a woman with a tee shirt that said, why run faster if you can follow this, with an arrow pointed towards her ***. After some study she did have a great *** and the point made alot of sense to me.

Thanks boomers! Larry

----
---

"If you see a man running up a mountain trail in Montana with a fly pole attached to his back, you are probably lost. LDD

[http://This message has been edited by RunsTheBitterroot (edited Dec-03-2007).|http://This message has been edited by RunsTheBitterroot (edited Dec-03-2007).]

[http://This message has been edited by RunsTheBitterroot (edited Dec-03-2007).|http://This message has been edited by RunsTheBitterroot (edited Dec-03-2007).]