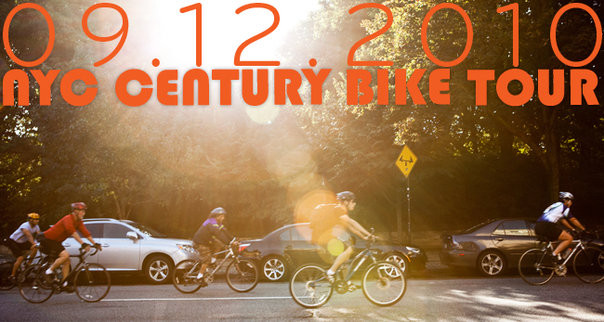 Be a part of the 21st Annual NYC Century Bike Tour -- the country's only all-urban 100-mile bike tour!
Registration is now open.
Sign up before August 22, 2010 and you will be eligible for the Express Start on Ride Day. The Express Start allows you to start the ride in Central Park, Manhattan or Prospect Park, Brooklyn without having to check-in first.
There are two great reasons to ride the New York City Century Bike Tour; first, this ride is like no other in the world. The New York City Century Bike Tour is America's only fully urban century ride. You can choose your distance- select from 100-, 75-, 55-, 35-, or 15-mile routes. All routes feature amazing views of New York City with fully stocked rest stops and safety marshals along the course. The tour links NYC's breathtaking bridges and beautiful parks to its incomparable neighborhoods and famous waterfronts. The NYC Century Bike Tour shows you the world's greatest city from the best vantage point, your bike.
Second, you're supporting Transportation Alternatives, your advocates for biking, walking and public transit. You riding in the New York City Century Bike Tour demonstrates to the world that cycling is safe and fun in New York City.
Location/Time: Central Park, Harlem Meer, enter at 110th Street and Adam Clayton Powell Jr. 5:30 am OR Prospect Park, Willink Drive near the carousel, enter through the park or at Flatbush and Willink Drive 6:00 am.