This race was a few weeks ago, but here is the report:
Intro
If you told me I'd be running a 50 mile trail race in October in early September I would have thought you were smoking something. So how did this happen?? Well... I've had a great triathlon season in 2008 except for my key race of the year, my triple A, Ironman Wisconsin. I PRd at every distance I raced this year and my season was based around my Ironman in September, even the early season Ironman in April I did, but the wheels just came off. Bad nutrition and some other stuff led to a miserable finish. But I finished.
Its not the way I wanted to finish the season, but I had not signed up for any more races. My first inclination was to sign up for another full distance triathlon, possibly something like Silverman or the Great Floridian... yeah, I'd get back at it. But I was tired of it all when it came down to it.
So browsing around the Internet I stumbled across an ultra race in Southern Wisconsin. I've always wanted to get into the ultra scene but I figured I'd wait a few years when I could actually train for it. There was a 50K and 50 mile event. The race was October 25th, so not much time to prepare. I said f&*k it, if I'm going to do it, do it all the way, I signed up for the 50 miler.
Training
Well there is not much I could do. I had to balance Ironman recovery, plus get some time on my feet. I never raced further than 26.2 miles and I never did a long run longer than 3 hours 10 minutes... ever... The only thing I had going for me was experience in endurance events. So after taking an easy week off after the IM race I had three weeks to test the waters. I started with back to back long runs
Week 1 : 2hrs Sat, 3hrs Sun
week 2 : 3hrs Sat, 4hrs Sun
Week 3 : 5hrs ... over 30 miles.
That all went well actually. I ran that stuff at a 9 min pace.... Problem is they were on relatively flat surfaces. The race I was to do was not flat, at all. But doing a lot of hill work could compromise my recovery from IM, so it was a fine line. I would just hope for the best race week. I started a three week taper after that with long runs of 3 hours, then 90 minutes, then race time.
So I was ready... as much as I could be..
The race started at 6am and it was relatively close to where my parents lived, about 40 minutes. DW and DD came with and we stayed at the parents house and my dad came out to see me off while the sane people slept... he took a few photos. It was pretty cold and it rained hard the night before. I knew I was in for a mud fest, but at least it wasn't raining in the morning.
There was around 185 or so sign ups for the race, it sold out. I guess this is a rather large turnout for such a race. I'm not sure how many people toed the line though. It was a fair amount.
Race strategy
It was pretty simple actually, I would keep it under control, HR under 150 for the first 35 miles, and then see what I had left. Turn off the HR and start running a bit harder. Basically I wanted to treat it like a marathon where you control yourself in the first 20 miles and race the last 6. Now how many times was I actually able to do that? hmmmm zero probably. But hey, I've had plenty to learn from and it was time to get it right. I didn't care about time I wanted to executed a perfect race. It was the only way I could survive. Of course I never ran 50 miles before, let alone in the forest of southern Wisconsin where there is rarely a flat spot.
Confession. I've never done a trail race. I've never trained on trails like this, not evenly remotely close.... So here we go...
THE RACE
Start to AS1 (6.2 miles) - It was dark.... I never ran in the dark like this in the woods. Even before we completed the first mile the group broke into two packs. I was holding on to the lead group of about 50 or so people and I looked back and saw the next group about 100 feet back. I was like wow... my HR was near 150 already, so I started to ease it back. I wanted to keep it in the 140s. I slowed down until I was at the front of the second group and decided there was no way I was leading us into the woods. I would get us lost. Luckily a guy I would run with for the next 20 miles took the lead and had a flashlight as well as headlamp. It was muddy and rocky and crappy basically. Right off the bat we hit one of the longest climbs of the day. So this is were I learned to walk. I was running up a good portion and I looked at my HR... 156. arghh.... Time to walk with everyone else. I walked at a good pace. At least as well as the people around me. I was a bit worried about my walking ability. I know a lot of ultra runners practice this kind of thing and get real speedy at it. I was able to hold my own fairly well. Things started to thin out and I grouped with two other runners. I immediately learned its best to keep together. No reason I should try to pull away from these people. If they start walking a hill I think I can run, I'm walking. It kept me under control.
AS1 - AS2 (mile 11.1) - It started to get a bit lite out. I was running with a school teacher who was local to the area and a guy from Austin, TX. We were all doing our first 50 miler. We kept with each other taking turns at the front. The school teacher was running a bit fast I thought, I tried to slow her down a few times saying my HR was too high. Luckily they slowed down. Basically we gabbed about things until the next aid station. The aid stations were really cool. It was like completing a race every time we got to an aid station. There was always a small group of people clapping for you as you came in. Small moral victories. At AS2 I found my drop bag and put my headlamp in it. I had one handheld which I kept Accelerade in for the most part. I found I can drink Accelerade forever with no problems. I can also stick with the Accel Gels as well. Up to this point I stuck with those, no real food yet.
AS2 - AS3 (mile 16.5) - I was ready to go, but my buddies weren't I waited for my bud from Texas, but the school teacher was no where in sight. She had not left yet, so we just decided to go. I wanted to keep moving, I know you stand around too long, its harder to keep going. At about mile 15 I told my friend my quads were tightening up. This is where I started to hurt. Mile 15!!! argh. Lack of trail running was showing. My quads are just not use to this ****!! Every downhill from this point was painful. It was here though and I had to deal with it, much earlier than I hoped. My strategy was to increase my caloric intake to try and compensate, liquids, salt to over 200 calories an hour. I figured I just needed to get more stuff in me, it couldn't hurt. I was just barely under 200 previously, which is what I trained at. We were holding pace fine however, still hitting around 10:30 - 12+. Some stretches were better than others, the hills dictated the pace
AS3- AS4 (mile 21.2) - We picked up another runner along the way and she ran with us until the mile 21.2 aid station. My bud was starting to complain about hamstrings. I was holding my own with the quads. I was letting them lead until one point they started going off course. I stood there looking at them and shouted out "hey!!, Aren't we supposed to go this way??" Whew.... disaster avoided. I led the way until mile 21.2
I was feeling ok at this point still fighting the quads. At AS4 I started on chicken noodle soup, and grabbed a bunch of candy. I took some twix bars and some swedish fish. From this point forward I would take in a lot of candy :). I stuck with Accelerade and took a few pretzels for the road. There were a lot of people at this aid station. One thing I noticed is that runners were spending a lot of time at aid stations. But they are like an hour or more away at times, so it makes sense to regroup.
AS4 - AS5 (mile 28.3) - My bud had to take care of business just after starting up, so I started running but said I would go slow so he could catch up. I had to do this a few times earlier myself. After awhile he caught up but brought along about 5 other people who looked to be running pretty strong. I led this group for awhile until I pulled over and went to the back where my bud was. He was complaining about hamstrings again and I didn't think he could hold pace for too much longer. We were hitting around 11 min miles here. Its funny with trail running. You are working hard, yet in reality hardly moving. I was about 2 min/mile slower on these trails as I am on the road at the same effort. Geez... Anyways this group of runners had some woman who had done 48 marathons in 48 states. Impressive. This wasn't the first time someone would announce their resume to me on the run. It was a LONG stretch from AS4 to AS5, it would be well over an hour between this aid station and the next. It was time to focus. I was running well actually, just fighting off pain. I had a few ibuprofen with me for emergency. I've never taken them during a race, and I rarely take them. I only had them because on Friday my right foot was really hurting for some reason and Saturday morning it was hurting when I woke up. I was afraid it might flare up or something during the race. My foot however was fine, I was thinking about my quads.
I kept going with 48 states, but I noticed my bud from Austin fell off, but I had to keep up pace. He'd be fine. It was great I could run with someone for 20 miles, but I had to keep moving. We got to AS5 at 28.3 and it was like a big party. There must have been at least 10 runners in there. Now was my chance to make a move.... I refueled and got the **** out of there passing about 10 people in one shot.
AS5 - AS6 (35.5). I caught up to a few guys sporting some Ironman wear... Triathletes.. geez...
I blew right by them still running at my 11min pace. I guess they must have went out too hard. I said hi and I was off. Everyone was really friendly out here and we all complemented each other whenever we could. Whenever I passed someone I would encourage them and they would say good job. All but a few times..... and I passed a lot of people from mile 20 on. Over 40 actually, and I don't think I was ever passed actually. I shoved down the Ibuprofen and kept going and soon I was all by myself with no one evenly remotely insight. I kept thinking to myself, did I miss a turn? You really need to watch the trail, pay attention. I heard later of several people going off course. I'm running 50 miles, I really don't need any extra
When I hit AS6, which was the same station as AS4 I stopped and refueled with chicken soup and the usual candy. There was a guy with an Ironman Wisconsin 2008 finishers cap on the phone talking to his wife I guess. I guess he was hurting. We started talking a little at the aid station about IM and he said he's doing IMCdA next year and I said so am I! He left a bit before I did, but I soon caught up to him.
AS6 - AS7 (mile 40.1) - I noticed this Ironman was walking so I ran up to him and started walking with him. We both agreed that doing this race so soon after IMWI was crazy... but who knew. Somehow he flashed his resume to me and said he went 10:30 at IMWI this year. I was impressed, I told him he kicked my butt. But I was doing the butt kicking today
I wasn't going to continue walking and told him I would see him at the finish line, if not meet you at CdA. He was a nice guy.
I had my cell phone on me and immediately after I started going again I called my wife. She later told me I sounded great. At mile 36 or so my GPS battery was getting low so I turned it off and stopped monitoring the HR. It was time to race. I noticed my pace average at that point was 11:12min/mile. A bit discouraging, but I was feeling great. Gritting my teeth on every downhill in pain, but my quads were holding up. I was again by myself and this time I thought I might be lost because there was some weird intersection we went over 3 or maybe 4 times and I wasn't sure I followed the right arrow. I found two people walking their dog on the trail and after I passed them buy I went back and asked if they've seen any more runners. The guy was like, oh yeah there were a few passing by not too long ago. Alright good. I passed another guy who seemed to be in trouble then caught up to this woman who seemed to be pretty cheery actually. I talked for her a little bit and moved on. I was really trying to focus at this point as I started to get a bit tired. I was running a bit harder than previously but doing great. When I got to the 40.1 aid station it was real cool. Again people cheering! This was a great mental victory getting to mile 40. Ten more to go... But then I thought... well 10 miles at this pace is loooonng still. Don't lose your cool. I fueled up with chicken noodle soup, filled my bottle and took off. The woman I met just a few miles earlier blew by the aid station, she didn't even stop. I figured I needed to catch up with her find out what's going on.
AS7 - AS8 (45.4) - I called my wife again. This time she said I didn't sound so good (she said this afterwards). I was getting a bit tired. I was ready for a nap. I kept running and I caught up with that runner again and ran with her for the next 7 or so miles. I found out she was an experienced ultra runner and she's done several 50 milers. I got some more credentials flashed at me. She mentioned she had an 8:30PR in the 50 and was a 3:20 marathoner. I was impressed. I didn't really have credentials to fire back at here :). She mentioned this was probably one of the hilliest one she's done. I think she ran her races in the Midwest mostly, in Missouri, Iowa, and WI. It wasn't that there were long climbs, it was just constant rollers, some very steep. Some would go up, level off and you could run, then go up again, level off, up again. I was actually looking forward to the climbing after awhile because it would be a great relief on my quads. I dreaded the downhills, it hurt like **** (lack of trail running).
Anyways we kept running, obviously she was slowing down if I caught up to her, but she stuck with me until the next aid station. We started talking about different things and it was like the early miles, gabbing back and forth all the way. So it was good it took my mind off things. When we go to 45.4 I stopped to do my normal routine. She stopped this time but was quick. There is so much time to gain going through these aid stations. I was happy though chatting with the volunteers because I was almost done! One of them was like its all downhill from here. I was like yeah right... no way...
AS8- Finish! - It was just over 4 miles to go and I started to move pretty fast. I just wanted to finish at this point. I found myself alone again and managed to catch about 4 or 5 people in this small stretch. When I came upon another road crossing, I asked one of the volunteers how much further. He said 1.7 miles. I was like hot dog! Now either he was lying or I just smoked it, but I ran that 1.7 miles in just over 12 minutes. I can run 7-8 minute miles on the road, and this last section was relatively flat, so maybe I did cover those miles that fast. I ended up finishing 20 minutes faster than my running partner I just left at the last aid station.... so somehow I ran as if a fire was lit up my rear for the last 4+ miles. Before I knew it I saw the entrance into the finish line at Ottawa Lake. I took the phone out and called my wife. I'M COMING IN I shouted. I was tearing up. The only other time I ever teared up was the start of my first race in 2004. My very first race ever which was a Half Marathon. 9+ hours on your feet I guess is emotional. Not even in Ironman did I get emotional after finishing. I kissed my wife and headed for the finish chute, then I saw my pops there and my daughter was near the finish. I hugged her before crossing and checked if she wanted to run with me, but she started to run towards the finish just outside of the official chute. So I started running to, we were racing!!! I finished and let a big sigh of relief... HOORAY!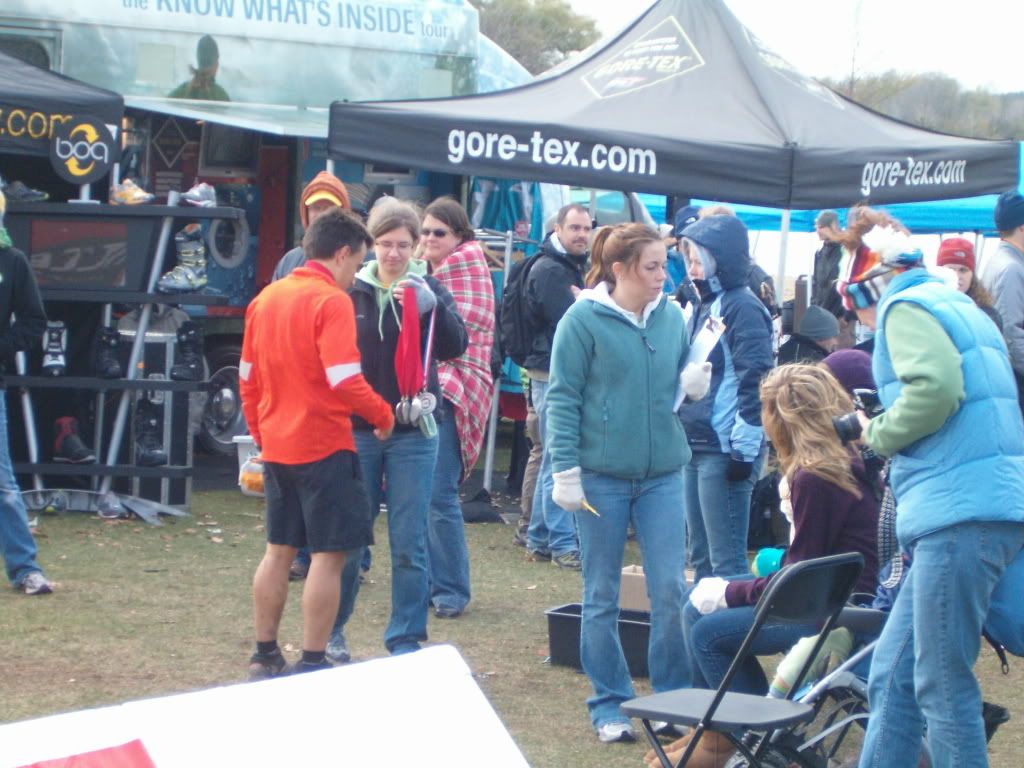 Result
What I really got out of this race was another life lesson. I learned I have the ability to push and even go harder when I need to late in a long race. This was an invaluable lesson I learned, and something I want to continue doing in 2009, and I should be able to apply this in all my races. I got lots of heart and this is what I hope to test in each and every race I do, so mission accomplished. However I know people want to see times, so here they are...
9:12:18 11:04min/mile (39/121 official finishers 14/49 30-39)
First 35.89 miles 11:12min/mil 6:41:50
Last 14.11 10:44min/mil 2:31:28
So I executed exactly the way I wanted to and negative split the race. I passed over 40 runners since the 19 mile mark, where we had a timing mat. So I'm extremely happy with this.
Lessons learned This is a HARD race, it would have been easier if I did that 3rd ironman. You really need to train for this type of thing to do well. I mean months and months of training on real tough trails. I didn't think there would be such a difference between running through rocks, mud, sand, etc than the road. But its just a different world, uses different muscles. As much as I train for triathlon, as much as I bike and run, its still amazing to see different muscles being used. Its two days after and I can still barely walk.
I'm super excited about trail running and plan to do a full season in 2009 of trail running mixed in with triathlon. Not sure how I'm going to do it. I want my cake and I want to eat it to, so we'll see how it balances out. I want at least 1 more 50 in 2009 and then tackle a 100 in 2010. I'll have to race less triathlons to make this happen so I can get good and fast at trail running. So I'm off to look at the old schedule and see if it will be possible to squeeze in an early 50, two ironman races and a late 50 next year. I may sacrifice an ironman, not sure. But I'll be training like a maniac that's for sure
Thanks for reading!