375 posts since
May 27, 2004
Currently Being Moderated
Dec 27, 2007 1:53 AM
I'm not sure why it has taken me the better part of 4 weeks to write about my experience at the Tahoe Rim Trail 100 (TRT100). There has been a slew of excuses….post-race blues, summer activities that keep me away from a keyboard, or just plain ol' procrastination…or just the knowledge that it's gonna be another long-winded report that will take a few hours to hammer out (once I figured out what I was going to write) at my blistering 50wpm pace…maybe I should consider ultra-writing? It finally struck me this morning.
The doubts, concerns, & emotional highs & lows that have usually moved me along one hundred miles & several hours of "running" didn't really materialize in their normal way on this race. Nothing to do with the course….it was outstanding….picture perfect. Nothing to do with the race…it was exemplary. Am I getting jaded? Is this becoming formulaic?

As usual, let's start at the beginning:
Local running buddies, Karl & John, had run the inaugural TRT100 in 2006 & came back with rave reviews. It was John's introduction to the distance, & Karl is a veteran of some 20-ish 100 milers….high praise for this new race on the calendar. Their stream of accolades during the year's various events managed to convince 8 locals from the Vancouver ultrarunning community (mostly members of our clannish Club Fat ***) to sign up & make the journey to Nevada's capital city at the end of July. A chance encounter with the TRT's Co-Race Directors at a far-flung aid station during the Wasatch 100 last September cemented my decision (although it would take me a couple of weeks after Wasatch to admit it).
The group managed to cover the spectrum of abilities….a virgin 100 miler (Baldwin), a variety of middle-packers (Ryan, John, Gilles, & yours truly), & even a few contenders (Andy, Alannah, & Karl). As varied as their abilities, was the mode of transportation used to get to the chosen venue…most made the long drive, some flew, & one hardy soul (Baldwin) took the bus!
If you've read my other reports, you'll be familiar with the Mud's modis operendi…kids go to the granparents place, Mr & Mrs Mud get on a plane, find a cozy place to hang out before the race takes place, I beat myself up for the better part of a weekend, then we enjoy another night of relaxation, good food, & cold beer before heading home. We now refer to this annual custom as a "Reality-Omitted Grown-up Escape"… clandestinely referred to as "Operation R.O.G.U.E." …time to ourselves….sort of.

The Travelogue:
Due to the particularities of booking flights with points, we arrived in Reno on Wednesday…a day earlier than we would have normally preferred (what with time away from my work, leaving the kids for an extra day, etc…). The good news was that we arrived at a very civilized time….too early for check in, but in time for lunch. We picked up our rental vehicle & headed out to one of Reno's most impressive destinations…the Patagonia Distribution Center & Outlet Store (I don't think they capitalize the letters, but this place deserves it!). We ran around like…well…ummm…I don't think there is a better analogy than…."like adults in a Patagonia Outlet Store". On an architectural/environmental note, the facility is exemplary of sustainable design (check out their website for details). Mrs. Mud proceeded to spend….er, rather save….a small fortune on swag. To be fair, her old ski jacket really needed replacing & she made off like a bandit. I wasn't totally innocent as I managed to dig up a pair of running shorts from deep inside a rummage bin….but enough about shopping…this is about running (no wonder it takes hours to type these reports…..)!
One thing that we had been eyeing since our plane made its way to the landing strip was a large fire that was consuming a mountainside. Fire &… perhaps more specifically…smoke had been gnawing at the back of my mind. As we stood in the parking lot of the Patagonia facility, we watched the helicopters swoop down from the mountain & scoop water up from the nearby Truckee River. In the days preceding our trip, it seemed to be the question that most people asked when they knew I was heading into the Reno/Tahoe area…"Are the fires a concern?"…. I posed this question to one of the store clerks, but there was no definitive answer…"Depends on the wind" was as much as anyone could figure. Reno certainly gets wind.
We grabbed a bite to eat (mmmmm….Mexican!), drove through downtown Reno (one of the few cities in the US I had never been visited), & then made our way to the hotel.

We had booked into one of Reno's newest resorts …the recently renovated Grand Sierra (this was, after all, "Operation R.O.G.U.E.") It was, in fact, Grand. The key to our decision was based on the pool….sand, cabanas, sun, warm water, cold beer…lots of relaxation before & after the race. The great thing about this hotel was the fact that it was totally self-contained…once we had the car parked, we wouldn't have to leave the resort…in theory. The room was outstanding…we even had a view of the mountain fire & we would periodically watch the firefighter's progress. My only concern about our hotel of choice was the long walk from the entrance, past the casino, past the check-in counter, past the coffee shop, down a hall, up the elevator, down another long hall, to finally reach our room. I sized up the bellhop's luggage cart as post-race transportation & wondered if he had ever hauled (sober) human cargo (over 7 years old) on that thing.

With a whole extra day to hang-out, we did exactly that. We intended to get up early & get to stocking all of our provisions, but instead we lounged poolside in one of the cabanas for hours & enjoyed doing nothing….no kids, no agenda, no nothing… nothing but walking to the pool & cooling off from the 100 degree heat.
We finally managed to drag our carcasses off the "beach" later that afternoon to run a few errands. We shook off our cobwebs, & began the transformation from beach bumming tourists to pre-race prep crew . It was time to hit the grocery store & load up on drop bag goodies, & other supplies. Off we went to the Sac-n-Save…fruit, Starbucks Double-Shot cans, folding scissors (airport security confiscated them on the way down), beer, Ensure, & all the usual stuff that a crew & racer need for a few hours of fun. We even considered playing the slots by the check-out area (this is definitely Nevada). Next stop was the bookstore…all that beach time had consumed our literary provisions. After a nice dinner at one of the hotels many restaurants, we sorted out the drop bags, packed the gear, & went to bed early. We knew this would be the last chance to catch a full night's sleep before the race.

Pre Race Day Goings-On:

Getting out of bed proved to be the crux of the day. The luxury of sleeping in on any given day is never squandered by parents of young children & this was heaven. We eventually emerged from our coma. Between the "beach" & the sleep, I was sure that my pre-race heart rate was going to be somewhere between 40 & sloth. One last look out the picture window our 20th floor perch confirmed that the mountain fire had been extinguished.
After lugging all the gear from our room, down the long hall, down the elevator, down another hall, past the coffee shop, past the check-in counter, past the casino, through the entrance, & into our awaiting vehicle, we made a bee-line for some hi-test coffee & the state capital & Race Headquarters for the TRT….Carson City.
It was an easy 30 minute straight-shot on a fairly quiet highway that brought us through the main strip & to the capital building. The typical white tents on the park grounds indicated the pre-race check-in area & we made our way over for sign-in. It was very quiet as most runners were waiting to show up for the pre-race briefing in a few hours, but it was a great time to get some info on the course from the volunteers that were present. I finally got around to signing-in, & hitting the scale. I tipped it at 182 (181.7 if you really wanna know)…not the sub-180 that I had hoped to be, but hey, it's not the Milan cat-walk either.
It almost seems like tradition by now, but we hadn't been there more than 20 minutes when we saw a familiar face…Keith! Keith & Kay always seem to be at the same races as us…in fact, if you read my report from last year's Wasatch, this is the very same Kay that spent innumerable hours with Mrs Mud following Keith & I through the Utah mountains. Kay was also the one to get me off my duff as I wallowed at Mile 75 that year. While Keith was entered in the TRT100, Kay was signed up for the 50km iteration (there was also a 50 mile version that would be run concurrently) & she would follow that up with crewing duty while Keith ran through the night.
After placing our drop bags at the appropriate locations, we zipped over to our new hotel to check-in & grab a bite. Keith was solo at this point, so we dragged him along so's we could catch up on things.
Driving through Carson City, we realized that there wasn't as much as we had expected, but what we did see was interesting….did you know that Carson City was the birthplace of the Pony Express? It was also home to Coin Press No1 for the mint…this would play a prominent role in the finishers buckle for this 100 mile race.

The pre-race briefing was somewhat of a reunion…familiar faces from other events, as well as the first ever Nevada get-together of the Vancouver chapter of Club Fat A$$. Of the 8 of us who had signed on for this race, 6 made it to this point. Allanah was a no-show, but nobody had really seen her through the training year so it wasn't a surprise. Unfortunately, our ringleader, Karl, had to bow out due to injury earlier in the season….he was sorely missed at the event but we know he'll be fully recovered to run another 100. What with our significant other/crews & Andy's daughter, the Canadian contingent was the third largest "state" represented at the event…. & certainly the most vocal. Even Baldwin was there… fresh off his bus ride (I don't know how his legs didn't atrophy!). We sat in the shade of the trees & soaked up the race course info, aid station accessibility, etc… the briefing was to the point & informative. Everyone looked good & was eager to get to the start.
As soon as the briefing ended, Mrs Mud & I got in the SUV & went to scope out the start area….no use worrying about trying to find our way at 4:00am. It was a peaceful place despite it's location off the highway, so we opened the tailgate of the vehicle & had a picnic. As we munched on fruit & drank some water, a car parked behind us….a couple came out & asked if I was in the race this weekend…the weigh-in bracelet gave me away. It turns out that Ted & Linda were volunteering at Tunnel Creek aid station & they were heading up the mountain so that they would be ready when the runners come through & due to the loop nature of this course, they would be there the whole weekend. That's when it struck me what it must be like to work some of these aid stations…this is Friday afternoon & they were going to be there until Sunday afternoon!!!! Talk about dedicated….& they aren't even runners! Regardless, they were really nice folks & I looked forward to recognizing some faces at that aid station (inaccessible to crew) since we would have to go through it 6 times.
Mrs Mud & I were in full relaxation mode & we eventually made our way back to town, had dinner (at THE best Mexican restaurant on the planet…& I can't recall it's name), located activities for Mrs Mud's excursions between aid stations (coffee shops, bookstores, Trader Joes…anywhere with a/c), went back to the hotel & flicked on the tube. If it's good for one thing, reality TV lulled me to sleep before 9:30 that night.


Act I: Race Day…Finally!


Although we had set multiple alarms, we were awoken promptly at 3:00am to the sounds of amorous neighbors & their headboard on our shared (& very thin) wall (a far cry from the paradise that is the Grand Sierra in Reno)… obviously not runners.
Mrs. Mud & I went through our crew/racer ritual….while she taped familiarly potential hotspots on my feet, I chugged an Ensure & some food…in no time, we were in the vehicle & driving through the darkness towards the start area…so far, it was hard to believe that the sun would be up in a couple of hours. Since the actual race start is in a park with limited access, racers & crew were to park their vehicles at another point & catch a shuttle. The shuttle was actually a couple of vans & within 10 minutes, Mrs Mud & I hopped in with several others & huddled on the van floor for the 5 minute drive to our final destination.
The sign-in area was buzzing with activity (as well as coffee, food, generators, floodlights, runners, crews, & nerves). We immediately located the Canadian contingent…obvious with our Club Fat A$$ shirts…. & chatted about expectations, weather reports, & some good ol' fashioned sandbagging. In what seemed like far too soon, we were directed to the Start area. Some quick hugs from our crew…some last minute photos…& we were off in the pre-dawn darkness. About 100 runners were kicking up some of that very fine Nevada dust….some wore headlamps…some wore jackets…some snapped pictures as they ran.
As we wound our way upward along the only stretch of dirt road on the course, I went over my mental checklist…go slow…even pace…enjoy the scenery…eat well…hydrate…take it slow…relax. Relax…hmm…I was very relaxed. I've always managed a fine balance of enthusiasm & excitement with a laid back attitude, but the impending epic that a 100 miler promises tends to lean one more towards the "excitement" side. But I had been oddly relaxed about the whole thing. When people asked me about the fires, I would have normally gone to the internet to find updates. If I had a tweak or pain (real or imaginary) during the pre-race taper, I would normally visit my massage therapist of chiropractor. Not this time. I had to be prompted to post my traditional pre-race taper anxiety exorcism (it's a weird little thing where I post any excuse that might allow me a way out of finishing an event before it happens…sort of a runner's version of the actor's benediction "Break a leg"…so far, it seems to work) . I didn't make an attempt at predicting a time goal. I didn't even read the course profile until we were on the plane to Reno! I seemed to be happy to simply accept what was to come. A mantra that gets me over the hills & valleys of many races (mental & physical) seemed to have leaped into my mainstream life… "It is what it is." Maybe this is what it's like to finally understand this distance? I wouldn't call it a Zen state…I was far too aware of my surroundings & the time/distance that lay ahead…it was, however, "comfortable". Comfortable in that I knew what I had to do & how to do it….I knew where my strengths lay, where my weaknesses come to the front, & that there is a ebb & flow to all that will happen. I was comfortable in my ability to get the job done. With all of the nit-picky stuff on auto-pilot, I could simply observe & enjoy the ride.

So it was. For the first few hours, I wound up & over the trails that led to a magnificent ridge & the views of early morning Lake Tahoe to my left. It was a magnificent blue...as was the sky. Without a cloud in the sky, the temperature was sure to climb as high as it had been over the last few days…"hot" for this northerner. I could see the mountains on the west side of the lake & remembered the month prior where Tim had run the Western States 100 over there…that same early morning light had illuminated the Escarpment aid station as we (his crew) cheered him through.

The single track trail under foot was peppered with larger rocks, but overall it was easy to manage running & taking in the views without tripping. The views are something that this race has in spades. The TRT website encourages the runners to bring cameras on the course & is obvious why…it rivals any course mile for mile. I, of course, forgot the camera with my crew. As we crested one of the first peaks, I found myself chatting with a fellow runner. His name was Alan & though this was his first 100, he was running with ease & confidence. We passed time talking about the usual…Where are you from? ….How did you hear about this race? ….What are your expectations? ….Check out that view!...
Before long, we flew down the backside switchbacks of Herlan Peak, through the boulder fields, & into Tunnel Creek aid station. Tunnel Creek is the Times Square of aid stations (if they ever think of renaming it…) due to it's location at the junction of the out & backs from Mount Rose as well as the Red House loop. As well as the 50 milers & 50km racers coming through, we 100 milers would be visiting this place on 6 separate occasions during the race (the 100 mile race is really a double loop of the 50 mile course). I had been carrying a reduced photocopy of a pace chart & it allowed me to preview the distances between aid stations as well as a reference to split times against my pace. At this point (mile 11) we were at about 24 hour pace (note: unlike the Western States pace chart, the TRT pace chart does not account for variances in the trail profile, time of day/night, nor for the location within the race…it is simply an average of speed/distance). Alan & I went through rather efficiently…ingesting food, refilling bottles, thanking the volunteers…& we began the dreaded Red House loop.

As we left the aid station, we caught up to Keith & he joined in the conversation. Although it was only 7:30am, we could already feel the sun on our necks. The race slogan is "A glimpse of Heaven, a taste of Hell"…. & this was reputedly the Hell part. It started off nastily enough with a steep drop away from the aid station on a very sandy & wide trail. The width of the trail negated any shade, but I was glad that I wore gaiters & that the sand remained on the trail instead of inside my shoes. We ran this downhill rather carefully for fear of thrashing our quads so early in the race. Despite this, I pulled away from Alan & Keith but only for a few minutes when we hit the bottom of the loop & started the steep climb to the Red House & ultimately back to Tunnel Creek. There was some minor confusion about the course direction, but as it turned out, we were on the right path & we cruised through the Red House aid station sooner than we had anticipated. On our way back to the top, a few speedsters from the 50km race (they started an hour later) past us & as we made our final climb up the sandy trail, we cheered on the other runners that were starting there way down the loop. At this point, everyone was smiling & enjoying the day. Alan & Keith were climbing faster than me, but so far Hell wasn't so bad. Within 1 ½ hours we had done the dreaded loop & we were back at Tunnel Creek. This time I managed to say "Hi" to Ted & Linda (the volunteers that were committed for the weekend) before flying off towards the turnaround at Mount Rose. Alan & Keith were way ahead, but I maintained my pace.

So far, I had been maintaining a mental record of the course. As I was going to (hopefully) be revisiting the entire course, I tried to gauge a pace that I could maintain on each section…it would also help me get through the night sections as I would know what to expect should there be any unusual turns, steep hills, or long stretches between landmarks. The 9 mile section section from Tunnel Creek to Mount Rose was predicted to take about 2 to 2 ½ hours & there was a water stop somewhere in the middle. My two handheld water bottles were filled & I even managed to get some ice cubes put into them…though they melted within 10 minutes, it was still refreshing. The trail & the views were consistently scenic….the crushed granite single track, still peppered with a few boulders, meandered through the alpine trees & glimpses of the lush green forests & Lake Tahoe far below alternated with the view to the east of Washoe Lake & the arid brown/beige of deeper Nevada. It was truly a pleasant run.

Being a sea-level dweller, I knew that the altitude of the Rim Trail would have some effect on me…as long as nausea wasn't a symptom, I figured I could manage the typical elevated heart rate. The TRT100 never dips below 7000' & maintains many of it's miles around 8200'. As I climbed past the Diamond Peak aid station…close to the high point of the course…I wondered if I was in the clear. I knew that the heat of the day would mark my traditional low point in a few hours, but I was hopeful that I wouldn't get slammed by an altitude/heat combo. The heat was already climbing, but I was also hopeful that the heat wave that Vancouver experienced earlier in the summer, coupled with the previous days playing iguana at the resort had helped me acclimate (I know…I know…a bit optimistic).
As I got closer to the Mount Rose turnaround, a few of the lead 50 milers past me on their way out …including the legendary Tim Twietmeyer… & the faster 100 milers were already on the return trip. Andy was sitting around 12th spot when I saw him & he looked strong. Eventually, the trail took a slight downhill direction & entered a pine forest. I was almost at the turnaround & sure enough, more & more runners were heading back (Alan was on his way back, as was Keith). I popped out of the forest & into an open alpine meadow…spectacular & the view was complete with a brook coursing through the middle. I could see the white tents of the aid station in the distance & I was looking forward to seeing Mrs Mud for the first time since the start. As I headed up the last ½ mile, Ryan was coming back down the trail looking fresh. We high-fived as we passed each other & I made my way into the aid station.

After a quick weigh-in (I was down 1 pound) & refill, I munched on some food as Mrs Mud directed me to my chair. The consummate professional that she is, she had me set up right…everything was laid out in front of the chair…food, treats, extra gear, socks, shoes, etc… I sat down for a brief time so that I could change out my gel flask, eat some food, wipe the sweat off my face, & apply sunscreen…yes, it was going to be a scorcher. Like a boxer between rounds, we conversed quickly & took stock of the situation so far…" eating well?...check…hydrating properly?...check….electrolytes fine?...check…no blister?...check….pace/heart rate under control?...check….nausea/headache?...check, sort of." I had a mild headache, but knew it was an effect of the altitude. "It is what it is"…I said to myself, & left it at that. It was just passed 11:00am & I was 26 miles into the race…ahead of 24 hour pace according to the chart, but it's a very rare breed that can maintain any resemblance to a consistent pace over this long of an outing. Figuring on the fact that there was still 74 miles to go, & I had yet to deal with my 30 mile blues, I was still happy with my progress.

As I got into the forest, I slowed my pace a bit for the slight incline. There was a flurry of runners heading from where I had come & as we passed each other by, we would all call out encouragements…."Good job!"…."Looking great"…"Almost there". Gilles came into view looking as though he'd just started a 5km jaunt…John was less that 5 minutes behind him & looking just as fresh. As I emerged from the forest & into the alpine area, Baldwin appeared….he was smiling ear to ear…the epitome of positive attitude. There were over 400 runners entered in the various distances, & in that out-&-back it seems that I greeted all of them. It was also a great way to break up the monotony of my own thoughts. I can usually go for many hours on my own as I tend to train solo, but after awhile I like to shut off the soundtrack in my head & flip on my MP3…the only problem here, was that the runners weren't allowed electronic devices. In keeping with the rules of the USATF…this was, after all, the USATF 100 mile Trail Championships as well as the National 100 mile Ultra Championships…racers were not allowed the luxury of distraction. USATF rules also forbade the use of pacers, but thankfully the race committee got a reprieve on that silly rule in the week preceeding the race (though pacers were considered "safety runners" & only allowed to run behind their racer). I don't use a pacer, so it had no impact on me…on the other hand, I would have loved to have my music (which, btw, I listen to at a low enough volume to hear a runner behind me), but I abided by the rules as they were. So here I was with "Blister in the Sun" & "Faster Kill Pu$$ycat" stuck in my head for many, many hours.

I was now retracing my steps back towards the start area. With each step, the sun beat down a bit more, & my head pounded a bit more. With the heat came some aches in my joints…or was it an altitude side effect? I made it into Tunnel Creek & promptly hit the ice bucket…I had ditched the water bottles with Mrs. Mud & instead opted for a hydration pack for the long stretches in the heat… ice in the water bladder, V8 on ice, ice in a zip lock bag to carry along & munch on, & I soaked my Buff (bandana) to put around my neck. I would have climbed into the ice bucket itself if I wasn't so concerned about getting stuck & running with a Rubbermaid strapped to my fat a$$.

The climb out of Tunnel was long & slow. I was passed 35 miles & my typical nausea never materialized…I was feeling somewhat sluggish, but I was moving along OK. Along the way, several people seemed to be having troubles. It was either the heat, speed, nausea, or cramping… the usual showstoppers of ultras. My head was hurting & my joints ached, but I wasn't worried…I had a quote. I had watched a Western States DVD where the original 100 mile runner, Gordy Ainsleigh, talks about how the heat of the day can cause many runners to drop out of a race & that if they had only waited a bit longer for nightfall, they would realize that it is a whole different ballgame. With this thought in mind, I simply moved along & bided my time. Without an MP3, I swear I must have repeated Gordys words like I was reciting Hail Marys on an oversized rosary. At some point, I passed Kay who was having her own low point. She must have been in the Red House loop when her husband went through Tunnel Creek, because they never passed each other. We wished each other luck & carried on.

The next aid stations went by in a blur…but the folks at those aid stations were great. Someone was making strawberry Ensure smoothies at Hobart, & a toddler entertained us with her gymnastics, while a young girl helped fish my drop bag out of the back of a pick up truck (twice, as I forgot something). At Snow Valley (which is far above the valley…in fact it is the highest point of the course), the boy scouts were hosting a windswept buffet that included the tastiest popsicles on the planet! From this point, the course drops from it's 9000' perch to the lowest point of the course at the start/finish area. The 7 miles to the 50 mile mark went by fairly well, but I went conservatively. Knowing that I would have to do this all over again, I paced myself as if I was on the second lap….if I had anything extra at the end, I would kick it into a higher gear, but I wasn't going to let 'er rip at this point only to make life miserable for the next 50 miles. Instead, I enjoyed the company of a fellow runner who was participating in the 50 mile race…his tale of suffering made me feel much better (he ran Western States the month prior, then got a vasectomy & was now attempting to run this thing…needless to say, the downhills were not his friend). There was a final aid station about 2 miles (1.7 miles if you really wanna know) before the start/finish area & there was much cheering….in part due to it's proximity to the noise of the nearby highway, & in part due to the excitement of those that were close to finishing 50km or 50 miles. The trail followed the edge of Spooner Lake & finally popped onto a floating bridge where a group cheered the runners…'You're almost done!" one of them yelled…"I'm doing the 100" I responded…"Oh… well, then you're almost half way!!"
Almost as soon as I popped onto the dirt road above the lake, I was going passed the start/finish chute. It was a painful acknowledgement that I wasn't yet going through the chute…that was the domaine of Finishers. I was eyeing those lucky people as they closed the chapter of their races with a last few steps, a ribbon placed around their neck & a cold beer placed in their hand…ugh…this was tough to watch…"so close yet so far" never seemed more appropriate. Mrs Mud eagerly greeted me as they weighed me in (up 2 pounds) & there was a whole slew of Fat A$$ crew members there as well. Gilles wife Lucinda was capturing every moment on video & still camera. At one point Mrs Mud asked how I felt…"Like I've just run 75 miles"….knowing full well I was nowhere near 75 miles. Ryan was sitting in chair & looking pretty good & he left within a minute or so of my arrival. Mrs Mud worked her usual magic & got me into my chair. This time I opted to change socks & was pleasantly surprised (though I shouldn't have been) to see that Mrs Mud's tape job was still holding up perfectly. I had a couple of minor blisters to take care of, but aside from that, I just ingested calories & we went through our checklist. I never mentioned the headache….something that I have been guilty of before….if I don't acknowledge pain, then it doesn't exist. As I got ready to go, Gilles & John came in together. I chatted for a bit & shared some gourmet pizza that Lucy & Lucinda had picked up for them (these boys know how to eat!) before heading off. I wish I could say that the second verse was the same as the first, but that's not what makes these things exciting…for better or for worse. In this case, it is what it is.

Intermission

Act II: Reprise

After a hug & kiss from Mrs Mud, I felt somewhat refreshed & ready to tackle the last half. All I had to do was wait for the heat to dissipate…. & according to the forecast (& what the aid station personnel were telling us), we were in for a cool night….somewhere in the high 30's (that's "Fahrenheit" for you Canadian readers). I was looking forward to that. I had made it through the 50 mile mark in 13 hours, so I was surely going to get through the 30 hour barrier…probably. Worst case scenario, I had 35 hours to complete the race & get a finishers buckle, but the allure of breaking 30 hours is a coveted silver buckle with it's silver medallion inset (there is also a silver buckle with a gold plated medallion for breaking 24 hours). So I trotted along & hoped that the headache wouldn't get any worse & that my joints would feel better when things cooled off. The climb up to Martlett Lake seemed so much shorter & so much flatter the first time around. As I power walked a large chunk of this section (probably the majority of it) I thought about how good it would feel at 4:00am…or somewhere near the finish…anywhere but at this moment right now where I could taste the dust & each step on the dirt road was as equally uninspiring as the last….at least there was a view when I got to the lake.After an interminable time, I finally made it into Hobart aid station. I was refueling & perusing the buffet (it was quite an impressive spread!) when I heard some familiar voices….Gilles & John had caught up to me. They have run many miles together (most recently in June at Big Horn 100 & Vancouver 100) & they possess the same locomotive doggedness of pace…come Hell or high water, they maintain momentum. We chatted for a bit & I finally admitted my aches to Gilles. "Have you taken any ibuprofen?" he asked. "Nah…never use the stuff" I replied. For some reason, I had thought of pain meds in the same vein as pacers…not for me. No real reason. Just not something I consider as part of my tool kit. Anyway, Gilles explanation made sense & I relented. I had been in the aid station for a couple of minutes & felt that I needed to keep moving. Gilles & John generously asked if I wanted to run with them. I looked forward to it, but was uncertain if my pace would hinder them for now so I decided to leave & they would eventually catch up to me. I know that I have quite a kick towards the end (if you've read any of my other 100 miler reports, you'll know that) so I didn't have any worries about getting through the 30 hour mark…but I didn't want to slow them down at this point.

As I left Hobart, the sun was setting & the wind started to kick up as I wandered up & onto the ridge. I stopped to put on my Patagonia Houdini windshirt & took some time to look around. As I looked at Tahoe far below, I realized that my headache was gone & that my joints felt great…was it the ibuprofen? Was it the coolness of the wind? It was that moment that Gordy had talked about & suddenly everything was right. I picked up my feet & my pace…the sun was setting & I was feeling good. It was time to get moving while it was easy to see the trail. I got up & over Marlette & Herlan Peaks with ample daylight, but as I started the descent towards Tunnel Creek (my 4th visit), I finally relented & switched on the headlamp I had picked up at Hobart. The descent was almost effortless & the easy pace in the earlier half of the race had left my legs with lots of juice. Although I hadn't been through the major low point that is my typical experience, I had managed to spend over 35 miles of low-grade suffering….but as I said earlier, it was never a worry…just somewhat of a nuisance that I had to deal with.

Tunnel Creek came & went in a hurry as headed towards a nighttime version of the Red House loop…I didn't want to upset the momentum I was carrying. I ran down the sand trail & could taste the dust of prior runners as it hung in the air. As I made my way down, my flashlight was somewhat drowned out by what I thought was an approaching horde of runners…turns out it was a 4x4 vehicle returning to the aid station…lights ablaze! I continued down & as I got to the intersection where the return section joins the "out" section, I saw the eerie green glow of a lone runner's flashlight heading towards me. Knowing that Keith had a green LED light I called out… "Keith?"… "Yep. Who's that?"… "It's me, Muddy"….(in fact, Kay & Keith actually call me Muddy in real life)…"Hey!" I filled him in on seeing Kay & that he might not expect to see her at the 75 mile aid station given her condition when I saw her earlier. He thanked me, & we wished each other luck with the rest of the race. As I continued down the trail, there was very little sign of other runners…no flashlights in the distance, no voices in the night. Occasionally, I would get that gritty crunch on my teeth & my lights beam would create a cone in the darkness…a sign that someone was ahead & kicking up dust. Eventually I would catch up to them & continue on. I finally made it to the Red House, but unlike the first go-around, this time there would be nobody around. In order to make sure that each runner completed the loop, we were responsible to locate a pen on the aid station table & use it to mark our race number….when we would return to Tunnel Creek, a marshal would verify the marking & allow us to continue on….if we forgot to mark our race number, we would have to do the loop over again….this instilled quite a fear in the racers that the pen would go missing…but as it turned out, it was a fat red marker that was lashed to the table on a tether. It also turned out that the fear of a lost pen was not as much of a deal as the noise I heard coming from the bushes 10' from the table…remember…it is pitch black, I am in the middle of a forest, in cougar country, & it's well past 11:00pm. As I signed my race number with the infamous pen, I heard a noise from the bush that made my hair stand on end…I signed my number & got the heck out of there…the only way I can describe the sound is like this….it was as if a large mammal (say, a cougar perhaps) had it's prey in it's jaws & as it was holding it in it's vice like grip, the biting animal was trying to catch it's own breath through it's nostrils. I ran pretty fast…& it had nothing to do with ibuprofen, I'll tell you that much. I continued up the gentle grade & as I made my way higher I eventually passed a few runners. The "noise" was no longer a concern, but I did ask if anyone else had an idea of what it might be…nobody did (& no…I do not hallucinate…especially that early in the evening). I caught up with one runner & it wasn't until I was about 5 feet from him that I realized it was Ryan…still looking good…we chatted briefly, but as before I didn't want to kill this momentum. I got to the intersection where I had seen Keith & realized that he was an hour ahead at that point…he was moving along quite well. Up the sandy trail…more grit in my teeth…& I greeted runners on their way down to the loop…I mentioned the "noise" but most were concerned about the condition of the pen.

One more time into Tunnel Creek, but this was an important stop. The 9 miles of trail between here & the Mount Rose aid station was unaided…that meant about 2 to 3 hours of self supported running as the Diamond Peak aid station was simply a table with leftover water jugs. The volunteers warned that the temperatures were forecast to plummet into the mid 30's (it kept dropping every time I asked, so I finally stopped asking), so I grabbed the gloves from my drop bag, & put on a Patagonia Capilene top. Several runners were laid out in the tent…either in sleeping bags or by the gas heaters. It was a bit of a war zone….typical for this point of a race….& I had to get out of there. It was relatively cool, but I didn't need my windshirt until I got over a couple of ridges…the wind blew hard, but it wasn't a cold wind….& it didn't last for very long. As I ran, I would alternate my headlamps position to give my eyeballs some variety in the light level…for a spell, it sat properly on my head, then I would take it off & hold it in my hand…I ran most of the night this way & preferred the handheld method as it gave some definition to the trail & I avoided stubbing my foot a few times. I lost track of time & was finally in a zone, but I often caught myself walking when I should have been running…no real reason for it…it was almost automatic…but there I was walking a perfectly good section to run…legs weren't tired, I was wide awake, but I was just deep in thought & actually enjoying the solitude. The faster runners had been heading back from Mount Rose & we would greet each other with the familiar "Good job" (which I said with all sincerity as the faster runners are impressive for their speed, while the slower runners are impressive for their stamina). Eventually I was running through the forest that signaled the impendig meadows at Mount Rose when I saw that familiar green cast of light…Keith. He was returning from Mount Rose & confirmed that Kay had not been there…that he had spent a bout 20 minutes in the aid tent, & that he was plodding along slowly 'I'm sure you'll catch up to me at some point" he said. We wished each other well, once again & we wen t in our respective directions.

Exiting the forest & into the meadows brought the coldest snap of the night. While it wasn't cold for very long, I was surprised at how big a change this place could be from the last lap…the last go-around had been about 11:00am and in the 90s & this lap was somewhere around 2:00am and in the high 30s. The climb to the aid station warmed me up a little & the cheers from Mrs Mud warmed me up lots. This time, I refueled by the propane heater & Mrs Mud went through the check list….all was good & I told her about my long gone headache & Gilles suggestion of vitamin "i" . Lucinda & Lucy were there as well & it was great to see so many familiar faces after almost 8 hours away. I took my time at this aid station knowing that it would be the last time to see my lovely wife before the finish & it was another few hours before I would get back to Tunnel Creek. All considered, I was in great shape compared to how I felt at Wasatch the year prior….there, mile 75 was almost my undoing. Here, all was well & I was looking forward to the return to the finish area. Mrs Mud finally managed to kick me out of my chair & escorted me out of the tent. As I ran up to the trail head, she yelled "I love you!!"…to which I heard someone else reply "I love you too!!". It turns out it was Matt… a fellow with whom I had run a few miles at Wasatch the previous year. Small world….here he was… at the same aid station in the middle of the Nevada night.

Act III: The Homestretch

No more than 3 minutes after I had started down the trail, I saw more familiar faces…Gilles John, & Ryan were all coming into Mount Rose together. Considering that nobody had planned to run together, this was quite an anomaly….what a fun trio that must have been.
I was feeling fresh & ready to get this thing done, so I picked up my pace again….power walking the climb through the forest, & running the downhills. It was a great feeling & one that I had hoped would carry from the start through the finish, but I was glad to have it in the latter part of the event. People were still coming towards Mount Rose & as I headed further away, my thoughts started going towards Baldwin….where was he?... news from the crew was that he made it through 50 miles…he was looking a bit rough, but his attitude was great… good ol' Baldwin was Mr Consistent….where was he now?...more runners…no Baldwin. Finally, about 1 ½ hours after I had left Mount Rose, Baldwin is heading towards me! "How you feeling, buddy?... "Great. I just have a couple of massive blisters under my feet, but I'm aiming for a 34:59 finish". Geez! Tough as nails. I wished him luck & headed off. I doubted he would see the finish…. "massive blisters" & more than 30 miles to go? Great effort, though. Don't forget that this is his first attempt at 100.
As I ran, I simply enjoyed the city lights way down below, the stars above (Mrs Mud said she lost count of the shooting stars as she waited at Mount Rose….which means that either there were a lot of shooting stars, or she had been waiting quite a while…or both), & the smell of night air. Occasionally, I would pass a couple of people & there would be a flash of light behind me as a runner's beam would scan across a switchback …other than that, it was a very quiet run.

I pulled into Tunnel for the final time & there was an eerie quiet to the place…It was pre-dawn, & while a few of the volunteers caught some sleep, the generators had gone off. I made a quick refuel stop, dropped off my gloves (which I never used), said a final hello/goodbye to Ted & Linda& I was off. I tried to decide whether or not to leave my headlamp behind, but it was still too dark, so off I went. It seemed like I had left the aid station no more than 10 minutes that I turned off my light….ah well. As I made my final climb up Marlette Peak, I caught some movement on the switchbacks below & noticed another runner climbing strongly….it was Matt. I thought he would catch up to me, but I found myself on the ridge heading towards the Hobart aid station at mile 90 & no sign of him. The sunrise was a spectacular yellow line on the eastern horizon but it also signaled the impending heat of the day. Perhaps as an omen, the trail ducked onto the western flank of the ridge & into the long shadows. I was going to be OK. The trail dropped onto the high valley & I found myself gorging on goodies from the Hobart crew. I turned down the offer of pancakes & simply chugged back a Starbucks Doubleshot, a V8, & some soup…it had been working for quite some time & I wasn't about to mess with success. As I was getting ready to leave, Matt came through & made short work of the buffet…before long, he was past me & working his way up the ridge to Snow Valley.

Although this aid station was over 3 miles away, the time seemed to slip by & we went through there (thanks again for the popsicle!!) quite efficiently…all that was left was a 7 mile downhill. We chatted for a bit as we wound our way through the singletrack ridge & eventually into the lower elevation forest. I was chomping at the bit & looking at my watch. Matt was sure we would get under 30 hours….I was sure we would get under 29 hours…if we really pushed, we could get under 28 hours. I decided to make the final push count…I know this has worked for me in the past (though I have previously enlisted the assistance of Alice in Chains, The Cult, or AC/DC, this would be a luxury not available on this occasion) & so I opened up the jets.

The relatively conservative pace earlier on, had given me plenty of reserves & so I went. I passed a few people as I careened down the open trail, but I was cautious to keep my ankles protected (point your toes outward….you'll never roll an ankle!) & made sure to lift my feet (don't want to stub sore toes at this point). Although my quads felt good, the soles of my feet were hurting & a blister had formed on my heel. There was no way I was going to stop at this point, so I just kept going….I'll rest when I'm finished. I knew that the 28 hour mark would be close, so I stopped looking at my watch & guessed at a 28:30 finish time…still I cranked my legs over. It felt like the drop was going on forever….surely the final aid station was close? Once I would see that, I knew I would have less than 2 miles to go. As I ran down, I saw a sign that I was close….walkers in crisp white sneakers….surely they wouldn't wander too far from a vehicle? Then I came across a woman walking her dog…"How long is the race?" … "100 miles"… "Is this Western States?" …"I hope not, or I am seriously lost!". Finally I see the final aid station that marks the last 1.7 miles…there is a line of about 7 or 8 men clapping & cheering…there is also a race clock & I note the time elapsed…27:46:??... I wonder if I can? Sub 28? 13 minutes to cover 1.7 miles? Just run, Fast. Faster. Don't leave anything on the trail. I am at the lake's edge. I can see the finish tent in the distance. It looks possible. I pass two runners. Flashback to Cascade Crest where Mike & I miss the change of the hour by 30 seconds. Don't quit. Faster. Go!I look at my watch. Did I start it at exactly the same time? Cross the floating bridge. I am on the final dirt road. RUN! I see the finish line & the clock. Mrs Mud barely turns around to see me come through the chute & I am finished…27:59:06.
I am dripping with sweat, I am tired, but I am ecstatic. I get my medal & the RD places a cold beer in my hand. When I finally get my wits back about, I notice that Keith is sitting down enjoying a beer, so I sit next to him & we toast to success. Kay & Mrs Mud are saying things but I am trying to absorb those last 1.7 miles. Less than 2% of the entire race distance & an even lesser percent of the total time spent….yet I spend more thought about that one section…the section without the alpine views, without the grand lake, without the stars, without the remoteness…than any other part.


Epilogue:

First & foremost...the volunteers & the RD's (David Cotter & Kevin Bigley) were outstanding! This was only the 2nd running of the 100 mile race, but the 50 miler had been in place for many years. I suspect that this 100 will be filling up on a regular basis...word travels & a quality event like this deserves recognition.
John & Gilles finished together, Ryan finished as well…all earned a sub-30 hour buckle.
Andy's old injury came back to nag him & he had to pull out.
Mrs Mud & Kay hung out like old friends.
About "the Noise"...when I finally crossed the finish line, I was talking with the RD & mentioned "the noise". "Oh...that?" he said "It's a stand pipe that backflows every night". He!
Gilles wife Lucinda managed to make use of her spare time between crewing duties by editing/producing a DVD for each or our Club Fat A$$ participants using her laptop...she handed the finished product out at the awards that afternoon.
Mrs Mud & I returned to Reno for some R&R where we thoroughly enjoyed the "beach" & especially the frosty drinks that were served poolside.
Then there's the buckle...arguably the best looking finishers buckle out there.

What about Baldwin? Well… Baldwin managed to suffer through his blisters, & fought the heat of the second day to finish in 34:10! Not bad for a guy who took a bus from Canada, had no crew, no pacer, had never run more than a 50 miler, but he was armed with an optimistic outlook & sheer determination. That is one tough hombre! Way to go Baldwin.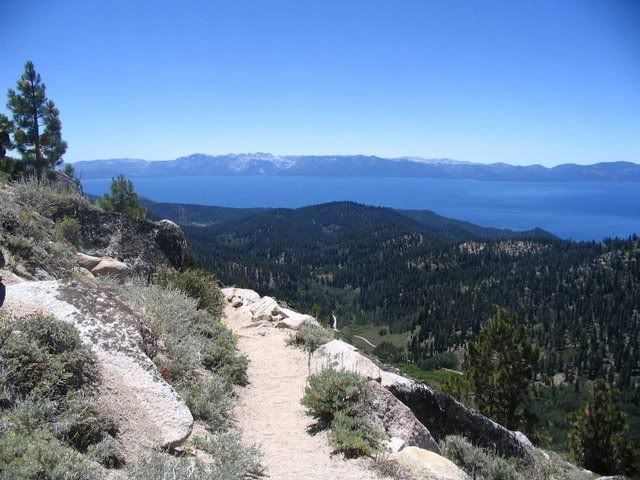 photo courtesy of Addygirl



[http://This message has been edited by mudrunner (edited Sep-03-2007).|http://This message has been edited by mudrunner (edited Sep-03-2007).]